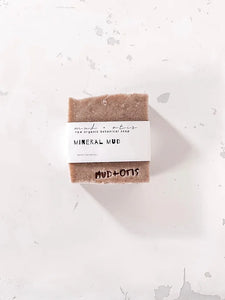 mineral mud
Mineral rich bar made with dead sea mineral salt, diatamous earth and dead mineral salt. This bar is made without essential oils. It has natural earthy aromas from dead sea mineral mud.
Dead sea mud is slightly exfoliating, packed full of salt and minerals which are nourishing for the skin and body.
Diatomaceous earth is slightly exfoliating and has high amounts of silica and its known to boost skin health. Studies have shown that the use of silica topically improves the elasticity, texture and hydration of the skin.
whole ingredients

olive oil, coconut oil, Dead Sea mineral mud, sodium hydroxide, diatomaceous earth, dead sea mineral salt

ritual

To attain the longest life keep soap dry between uses. 

You can also cut your bar, and use as you need.

disclaimer

We always reccomend with a patch test, topical use only. Made with naturally derived ingredients, which in some cases may cause sensitivity in certain individuals. If sensitivity occurs, discontinue use immediately. In an enviorment that uses tree nut oils.