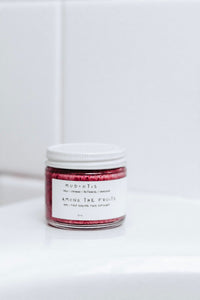 Among the fruits | AHA + fruit enzyme face exfoliant
Among the fruits is formulated to break down and exfoliate dead skin cells to reveal fresh, glowing skin underneath. A unique blend of papaya, mango, pineapple, guava, hibiscus, rose hip, sea buckthorn and banana extracts. Alpha hydroxy acids and enzymes are naturally isolated from the fruits. These components are capable of exfoliating and smoothing the skin. It's natural +effective exfoliating properties brighten the skin by removing dead skin cells and flaky patches on the top layer of your skin.
Guava | very rich in antioxidants and vitamin A, B and C, and it helps prevent day to day wear & tear of the skin.
Pineapple | rich in antioxidants and skin-soothing properties, particularly from the enzyme bromelain it contains.
Hibiscus | has a magical reputation for increasing skin elasticity and commonly referred to as natures botox with the incredible ability to inhibit the activity of the enzyme elastase, responsible for breaking down our skin's precious elastin.
Papaya | supreme fruit enzyme boasting incredible resurfacing properties for a renewed complexion. Softening surface protein buildup called keratin.
Rosehip Extract | antioxidant rich rosehip acts as a super charged vitamin c gentle exfoliant. The botanical extract brightens skin + boosts cell turnover.
With all exfoliators, we recommend slowly introducing them once to twice per week, then building up towards a more frequent use. This method is ideal for all skin types, even if you don't consider your skin as sensitive. A gradual increase in use is the safest way to introduce an exfoliating product into your routine.
          ingredients:
vegetable glycerin, papaya oil, mango butter, papaya extract, banana extract, guava extract, vitamin c, pineapple extract, hibiscus powder, sea buckthorn extract, rose hip extract

ritual:

 

apply a thin to medium layer over face + neck and massage gently, and rinse off. 

Can also be used as a masking ritual, proceed with the first steps and leave on for ten - fifteen minutes. 

Can be messy, we reccomend using with care, espically when wearing light coloured clothing.

disclaimer: 

We always reccomend with a patch test, topical use only. Made with naturally derived ingredients, which in some cases may cause sensitivity in certain individuals. If sensitivity occurs, discontinue use immediately. In an enviorment that uses tree nut oils