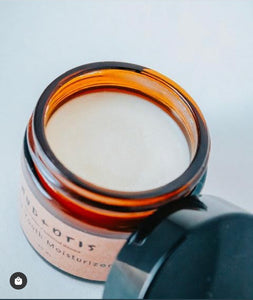 Wild youth face moisturizer |
A dewy, nourishing face moisturizer designed to relieve and deeply hydrate dry skin, soften fine lines and scarring, promote cellular repair and sink deeply into skin without blocking pores. Provides a highly absorbent, concentrated delivery of nutrients for all skin types. We purposefully and carefully selected each botanical ingredient based on its level of beneficial properties as well as its comedogenic rating, therefore even acne prone skin can benefit without experiencing clogged pores.
Many products, including face serums, creams and balms are made with pore-blocking ingredients like beeswax or coconut oil. If you have acne prone or sensitive skin, this is enough to create a breakout or irritation. We strongly support that all skin should be nourished, hydrated, and soothed with protective, nutrient rich oils and butters that do not block or irritate pores. If you suffer from combination skin, acne prone or extremely dry skin, this dewy moisturizer will melt into skin leaving it renewed, balanced and glowing.
Use |Massage into clean skin day and night. For best absorbency use after misting with wild youth toner.