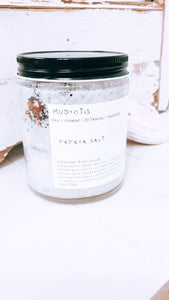 Papaya Salt Body Scrub - Give yourself a spa experience at home with Mud and Otis Papaya Salt Body Scrub. A gentle skin exfoliant with nourishing essential oils and plant extracts. 

Cleansing body salt scrub, coconut oil and mango butter. Infused with essential oils and botanical extracts for absorption and added nutrients.

Coconut oil | cleansing and purifying properties such as antibacterial and anti fungal. Vitamin A speeds up cell turnover and enhances the skin's appearance.

Dead sea mineral salt | contains magnesium, helps heal the skin, calcium, hydrates skin+ prevents wrinkles, sulfur, detoxifies and purifies the body, and potassium reduces water retention and puffiness. Papaya extract | rich in vitamin A + C, increases the rate of new cell formulation. Promotes collagen and elastin production. Great for sun damaged and aging skin Mango butter promotes cell regeneration, contains vitamin A and E help restore + maintain moisture in skin, and contains antioxidants.

Whole ingredients
Dead sea salt, himalayan salt, cocos nucifera(coconut)oil, mangifera indica(mango)butter, kaolin clay, carica papaya(papaya)fruit extract, Rosa canina L(rosehip)flowers, hibiscus rosa-sinensis (hibiscus)flowers, citrus × paradisi (grapefruit)essential oil