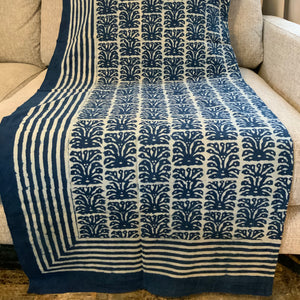 These stunning, on trend block print batik Indigo bed covers are 100% gorgeous Indian cotton and 1000% chic. The twin / double makes a great throw blanket. In addition, with some creativity these beauties can also be used as table cloths, wall hangings, sarongs, picnic blankets and just about anything else that calls for a dash of fab. Hand made and all One-Of-A-Kind. Imperfections should be anticipated with natural fibres and hand-worked goods. 
Cold Water Wash/dryer friendly. No Bleach. 
PLEASE NOTE: Indigo bleeds like CRAZY for the first few washes. Wash separately until it stops.