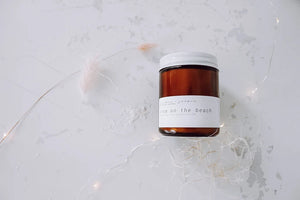 snow on the beach candle
Sweet and minty, aromas of peppermint, vanilla and raw sugar.
botanicals // coconut flakes and passion flower
essential oils // peppermint and sweet orange
top notes // peppermint leaves
middle notes // vanilla bean
bottom notes // raw sugar and musk
whole ingredients

Made with a blend of coconut and eco friendly soy wax. Our candles are infused with essential oils, dried botanicals and natural fragrance oils. Free of phthalates, paraffin free + and made with zero animal bi products, making it gentle on the environment. Made with unconditional love and intention.

candle care

On your first candle burn, It is best to trim your candle wick to 1/4" before burning, and highly recommend that you burn the candle for at least 3 hours. This allows the melt pool to reach all edges of the candle and avoids tunnelling. Tunnelling, means you're not using up enough wax and you end up with a 'tunnel' effect running down the centre of your candle.

 

Always try to trim the tip of your wick between each light. This stops the flame from getting too big and will ensure you get the best

candle safety

Store away from heat or sunlight and always keep candle in sight when burning for safety purposes. Always burn the candle on a level surface within sight and out of drafts. Keep away and out of reach of children + pets.